This article has been localized into French by the community.
Prérequis :
Installer PHP
Après avoir installé notre serveur web, on a besoin d'installer PHP. Il fonctionnera avec le serveur web Apache pour permettre au serveur de traiter les documents PHP et retourner le contenu au client. Pour savoir plus en détails comment cela fonctionne, regardez le chapitre d'introduction de ce tutoriel. Dans le cas où vous avez démarré Apache avant, fermez-le sinon l'installateur de PHP pourrait ne pas être capable de modifier les fichiers nécessaires!
PHP devrait toujours être téléchargé depuis php.net, sur sa page de téléchargement : http://www.php.net/downloads.php. Ce tutoriel est basé sur PHP5, pour que vous obteniez la dernière version stable de PHP5 pour Windows. Choisissez l'installateur sous "Windows binaries". Vous allez avoir une liste de mirrors proche de vous. Choisissez-en un et téléchargez le fichier.
Lancez l'installation, et poursuivez. On vous demandera où l'installer - le chemin par défaut fonctionne bien, mais vous pouvez choisir une autre chemin si vous le désirez. Le premier écran intéressant sera celui là: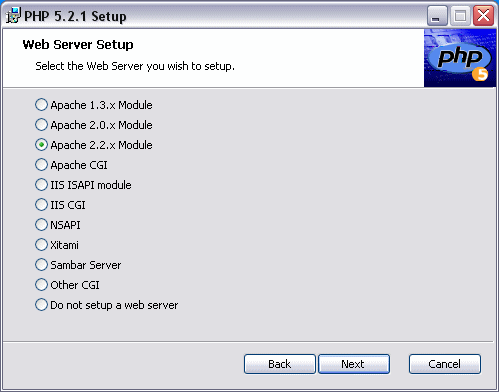 Vous devez choisir le serveur qui correspond le mieux à celui que vous venez d'installer. Dans mon cas, j'ai choisi Apache 2.2.x module, parce que je viens d'installer Apache 2.2.4. Sur l'écran suivant, on vous demandera d'indiquer à PHP où sont les fichiers de configuration Apache. Utilisez le bouton de recherche pour le trouver. À moins que vous l'ayez changé durant l'installation d'Apache, le chemin devrait être C:\Program Files\Apache Software Foundation\Apache2.2\conf\. Une fois que vous êtes arrivé sur l'écran suivant, on vous demande quelle partie de PHP installer. Toutes les extensions supplémentaires ont été désactivées par défaut, mais puisque vous pourriez en avoir besoin plus tard, et que l'espace disque est rarement un problème, vous pouvez également les sélectionner. J'ai décidé de tout installer, donc mon écran ressemble à ça: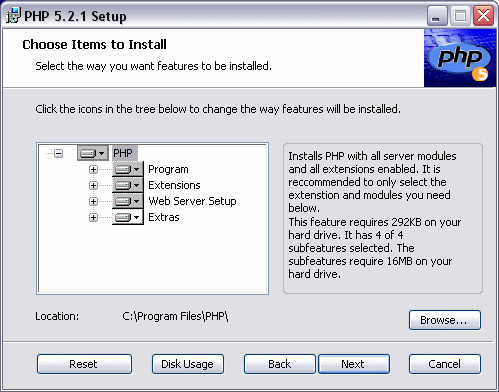 Maintenant continuez. Lorsque l'installeur à fini de copier les fichiers, il vous demandera si vous voulez installer PHP dans Apache. Vous devez choisir oui. Il mettra à jour quelques fichiers de configuration Apache, et vous pourrez continuer. Prochaine étape: l'installation de MySQL, mais d'abord j'ai envie de tester PHP, continuez jusqu'au chapitre Hello world pour notre premier exemple de code PHP.
This article has been fully translated into the following languages:
Click here
to help us translate this article into your language!
---